La Sultana, Marrakech, Morocco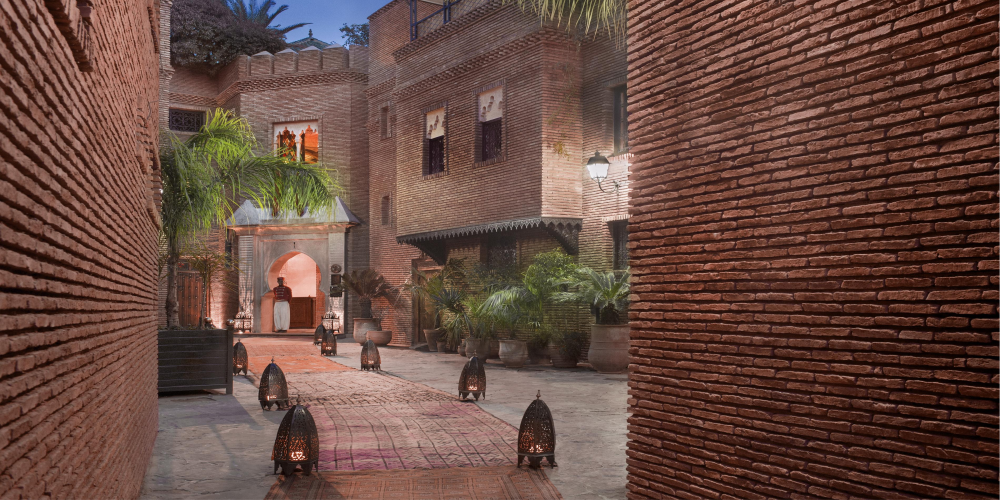 La Sultana Marrakech is an intimate 5-star Deluxe Hotel, proud member of Small Luxury Hotels of the World & Traveller Made Hotel Partner.
La Sultana Marrakech is ideally located in the old city just a stone's throw from the main attractions, ten minutes walk from Jemaa El Fna square and 15 minutes drive from the Marrakech airport (15 km).
ACCOMMODATION
La Sultana Marrakech has 28 bedrooms/suites, with each room having its own design and decoration offering a luxurious atmosphere and sophisticated elegance.
Deluxe Prestige room: 30 – 40 m2
Junior Suite: 40 – 45 m2, 1 extra bed is possible
Deluxe Junior Suite: 40 – 45 m2, has private balcony
Suite: 45 – 60 m2, 1 extra bed is possible
Deluxe Suite: 60 – 75 m2, 2 extra beds are possible and has private balcony
Exclusive Suite 'Apartment': The apartment has a separate living room with fireplace and a desk, a Jacuzzi bath and a room with a private terrace. The apartment can accommodate 2 extra beds.
SERVICES & AMENITIES
Outdoors heated swimming pool with jet stream
Panoramic terraces with amazing views and corners (misted solarium, bar, gazebo, open air massage rooms…)
Fully equipped private meeting rooms
Pool table, Free wifi, Library, Boutique, Lift, Lounge Bar, Spa, Gym
24 h room service
Cooking courses
RATES
Guest Rooms: From MAD 3500 onwards per room per night for Prestige Deluxe room during low season
Suites: From MAD 4400 onwards per room per night for Junior Suite during low season
Exchange Rate: 1 MAD = 7.28 INR
INCLUSIONS
Breakfast buffet in Kollazs Restaurant and VAT
4% city tax
Standard Wifi
Complimentary restaurant meals for children under five
One child below 18 years is accommodated in parents room at no extra cost.
EXCLUSIONS
Everything not included and mentioned in the inclusions.
Breakfast
Airport Transfers
Visitor Tax
NOTE:
1.
Low Season:
20 June to 31 August 2018, 17 November to 19 December 2018, 4 January to 4 February 2019, 20 June to 2 September 2019, 19 November to 19 December 2019
High Season:
1 September to 25 September 2018, 5 February to 6 March 2019, 30 May to 19 June 2019, 3 September to 25 September 2019
Very High Season:
26 September to 16 November 2018, 20 December 2018 to 3 January 2019, 7 March to 29 May 2019, 26 September to 18 November 2019, 20 December 2019 to 6 January 2020
2. Rates are subject to change according to the availability and season.
3. Terms and Condition Apply.